For the multi-talented person that Cindy Ambuehl is, it is rare to find someone unaware of her. Aged 56 as of 2021, Ambuehl is an actress, model, fashion designer, and a real estate agent, of course. People who are into real estate look up to her for inspiration. Every realtor aspires to be as good as her at dealing with their clientele.
Did you know that her strong ability to connect with the people has helped Ambuehl close several luxury real estate deals? Her charming persona has earned her several accolades in real estate. She is recognized as one of the Top 30 Real Estate Agents by The Hollywood Reporter. Variety recognizes Cindy as one of the "Showbiz Real Estate Elite."
Members of the National Association of Realtors and people who frequent the real estate market know about Cindy Ambuehl for sure. Just in case, read this blog from Estate Adepts to discover the Cindy Ambuehl bio. Let this piece of content also be your pal into exploring Cindy Ambuehl's net worth, dating life, and more. So, without an ado, let us get into reading about one of the most favored realtors of Los Angeles.
Who is Cindy Ambuehl?
Cindy Ambuehl is one of the prominent actresses of America. But that isn't all that she is. She is a lot more than just a gorgeous actress. Cindy is a fashion designer besides a top-grade model. Calling her acting career a quit, Cindy joined the NAR in 2007. And for the past decade and a half, she has been dedicated to helping her clientele find their dream estates.
As an actress, she has worked with quite many renowned actors. Ambuehl seems to enjoy great popularity for her excellent work in Meet Wally Sparks, JAG, The Naked Truth, and Seinfeld. Before walking into the entertainment industry, Ms. Ambuehl was a signed model from the Judith Fontaine Modelling and Talent. While she adored and presented the apparel designed by the prominent fashion designers at the ramp, Cindy also decided to explore the designer hidden in her. And then the world came across Cindy Ambuehl, the Fashion Designer.
Cindy Ambuehl Biography
Cindy Ambuehl goes as Cynthia Jean Kolbo officially. Cindy happens to be her stage name. She was born on the last day of January (31st) in 1965, LA, California. Since her debut in Hollywood, the actress cum real estate agent has been quite conscious about revealing her personal information. There is no information on her family background available so far. She hasn't revealed anything about her parents or siblings either.
But we most certainly know about her dating/married life and kids. We shall read about Cindy Ambuehl's husband in the later sections of the blog. One might find it hard to believe but, contrary to her current personality, Ambuehl was a tomboy in her school days. She wouldn't even hesitate to hit the class bullies. We know little about her educational background though. Cindy attended a grammar school. For her graduation, she studied drama at Juilliard School of Drama.
Cindy Ambuehl in the Entertainment Industry
Cindy made her debut in the entertainment industry on May 6, 1990, with the movie 'Archie: To Riverdale and Back Again'. She is best known for her appearance in "The Bold and The Beautiful (1996)," and "Head Over Heels (1997)."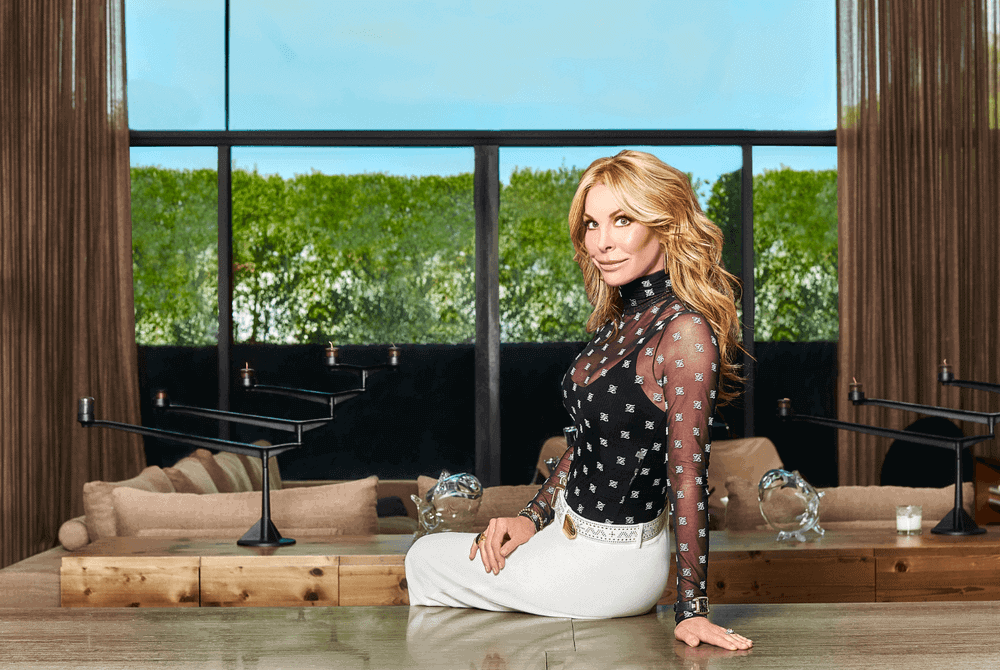 Cindy Ambuehl also enjoys fame for several roles in the Television industry. She has portrayed the character of Mona in 'The Secret Diary of Desmond Pfeiffer,' Rene Peterson in 'JAG,' Miss Italy in 'the Naked Truth' and Edna in 'Phantasm: III.' Ambuehl has numerous credits in television, movies, and OTT. Cindy was last seen in 'Meteor' in 2009.
When did Ambuehl Join the Real Estate Market?
Cindy Ambuehl has lived in LA for almost all her life. She has been familiar with the luxury communities of the city ever since. Her extensive knowledge about the luxury community has been one of the driving forces behind her immense success as a real estate agent.
Cindy enjoys a 14-years long career in real estate. There's no exact date available about when she earned her realtor license. But she started her career in 2007. Since then, she has been actively dealing with luxury real estate clients. She has contributed sales worth several hundred Million in the Los Angeles Real Estate.
In 2017 her sales volume was worth $160 Million. That year, Cindy ranked 20th and 40th in the list of best realtors in California and the USA, respectively.
Cindy Ambuehl Net Worth and Salary
With such phenomenal figures in her sales volume every year, one can only imagine Cindy Ambuehl's net worth. The 56-years old realtor is known to be involved in numerous professions. She is also active with several charitable organizations. We do not know about her annual salary figures. However, several online sources suggest her net worth to be around $1-1.5 Million. But we believe this stat to be underrated. 
Her Marriage and Dating Life
Miss Ambuehl married Don Bruce Diamont in 2012. Like Cindy, Don too is an actor and a model. The 58-years old actor is best known for his works in The Young and The Restless and The Bold and The Beautiful. In 1990, People Magazine chose him as one of the 50 Most Beautiful People in The World.
Cindy's fans speculate that she met her love, Don on the sets of The Bold and The Beautiful. With ethereal looks, Diamont was an evergreen heartthrob. Every lady around him wanted to be his wife but it was Cindy who won the man. Since then, the couple has been so much in love together. They shared a pair of twin sons (Anton and Davis) in 2003.
After dating each other for over 2 decades, the couple decided to walk down the aisle. Cindy Ambuehl and Don Diamont tied knots in 2012. Presently, Cindy lives in Santa Monica with her husband and sons. She also shares her heaven with the kids Don has from his previous marriages.