Energetic, tech-savvy, and passionate realtor Mauricio Umansky isn't an alien name to the world of real estate. The 51-years old realtor specializes in representing high-end real estate properties from LA and surrounding regions. He is the founder and CEO of The Agency. Ever since he arrived in real estate, Umansky has been taking the industry by storm. The handsome hunk is widely known for closing successful estate deals with several prominent celebrities like Michael Jordan, Kim Kardashian, and Lady Gaga.
Here's the piece from Estate Adepts to give you an insight on Kyle Richards husband, Mauricio Umansky bio, and more. We shall take a look at the real estate mogul Mauricio Umansky net worth too. Read through to discover Umansky's love life, family background, career growth, etc.
The Unrivalled Real Estate Mogul: Mauricio Umansky
Driven by his strong willpower and passion, Mauricio Umansky has come a long way. He has become a real estate mogul indeed. Starting his real estate career as a realtor in his brother-in-law's firm, Umansky has come far enough to establish his own company. Umansky's company, The Agency, specializes in dealing with luxury estates of LA and surrounding areas. Ever since its establishment in 2011, The Agency has only grown bigger.
People know Mauricio for his phenomenal real estate sales volume and success rate. He is renowned for his appearance in several reality TV shows too. Kyle Richards husband Mauricio isn't just a successful business owner, TV personality, and realtor. He is a great husband and father too. From his 25-years old marriage with Kyle, he has fathered three beautiful daughters.
Mauricio Umansky Family
Mauricio Umansky was born on June 25th, 1970, in Mexico.
His father, Eduardo Umansky, is a real estate developer. Umansky has previously worked at Hilton & Hyland. Presently he works as a real estate agent at The Agency. Mauricio's mother, Estella Snieder, is a super-successful psychologist from Mexico. She has appeared in several TV/radio shows too. Recently Estella was seen in an American reality television series called The Real Housewives of Beverly Hills. Mauricio also has a sibling. His younger sister Sharon Umansky Benton was born on December 9th, 1971. The 50-years old Sharon is a licensed real estate agent too.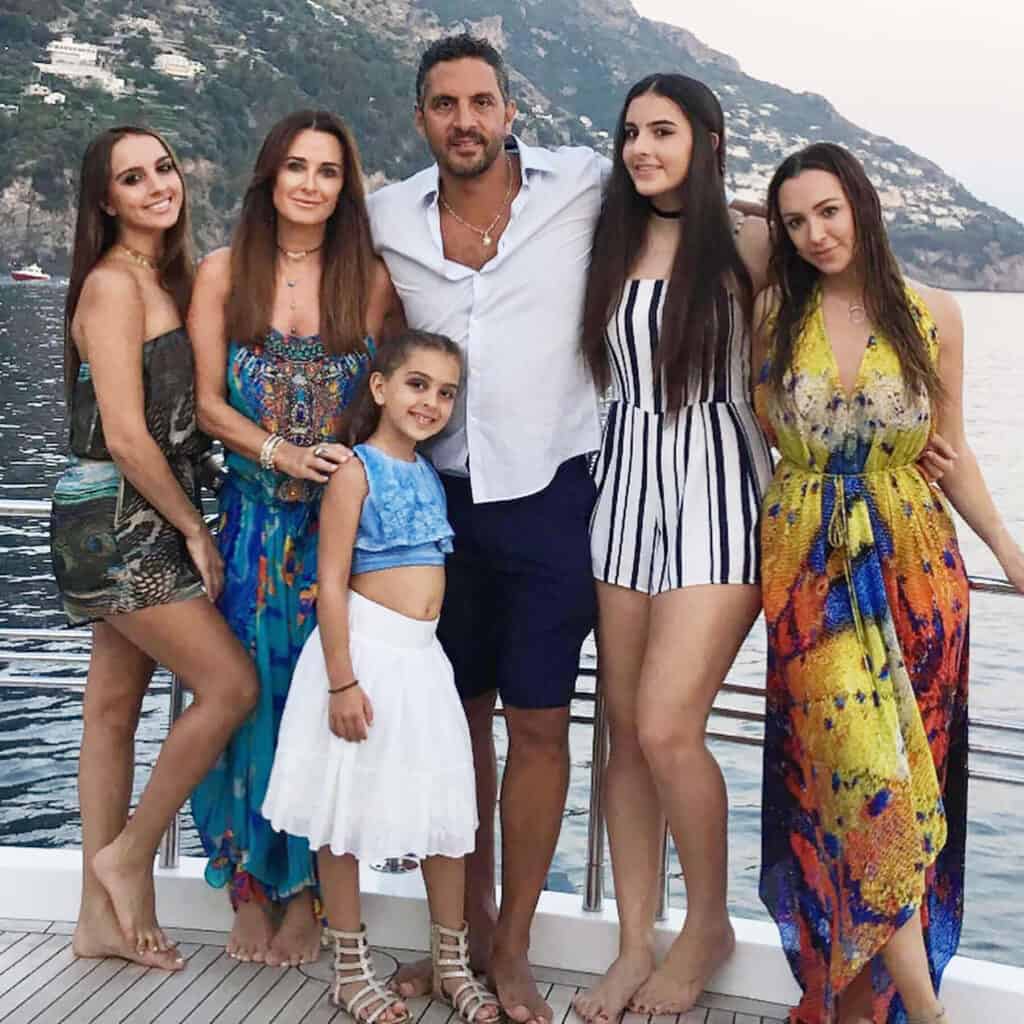 In the 1990s, Mauricio started dating Kyle Richard. Kyle is an American actress, besides a Television personality and philanthropist. Various online sources suggest that the duo first met at an event through a mutual friend. The two have hit it off well ever since. On January 20th, 1996, Kyle and Mauricio married each other. The two have parented three daughters since then. Their oldest daughter Alexia was born in 1996. The couple welcomed their second child, Sophia, in 2000. The youngest Umansky member was born in 2008.
Early Years
Mauricio Umansky was born and brought up in Mexico. He spent several years of his early life in Mexico, North America. It wasn't until the age of 6 before he shifted to the States. In the early years of his life, Mauricio suffered from neutropenia. Neutropenia is a health condition where a person is prone to several infections because his body lacks neutrophils (a kind of WBCs). For several years, Umansky has to visit hospitals every then and now to remain healthy. For the strong man that he is, Umansky defeated his disease soon.
At the age of 6, Mauricio, alongside his parents and sibling, Sharon, moved to the United States of America. Although he comes from a mixed ethnicity (Russian and Greek), the mogul realtor enjoys American nationality.
His Career
Did you know that Umansky's 'The Agency' is one of the fastest-growing firms in the USA?
He is one of the most celebrated real estate agents in the country. In 2015, Mauricio was ranked one amongst the top 25 Real Estate Agents by The Hollywood Reporter. According to The Wall Street Journal REAL Trends Annual List, Kyle Richards's husband has been ranking amongst the top 10 realtors in the country for 8-years consecutively.
With these phenomenal records in his name, you might speculate Umansky has been in Real Estate since the dawn of his career. Right?
But trust us, that is just as true as a myth.
After completing high school, Mauricio went ahead to pursue his graduation from the University of Southern California. But he did not complete his graduation. Mauricio left his graduation mid-way to start his business venture. He started a clothing line called 90265 which later turned out to be a best-seller. At the age of 26, he sold the clothing line for a significant profit. Thereafter, Umansky went ahead to explore his skills in real estate. There he joined Hilton & Hyland. It is a real estate firm owned by Kyle's brother-in-law Rick Hilton. In 2011, Mauricio started his own real estate company called The Agency.
As of 2021, The Agency has expanded its wings worldwide. It has 40+ offices in several locations across the globe. The firm has employed more than 700 real estate agents.
Mauricio Umansky Net Worth
If you are wondering about Mauricio Umansky Net Worth, read this part.
The real estate agent and developer Mauricio Umansky rules over the phenomenal net worth of $150 Million. Mauricio might be a full-time realtor but, he has several other sources of income too. As a television personality, he has made an appearance in a variety of reality TV shows. It has earned him quite some fortune. His firm, The Agency, is growing rapidly. The firm seems to collect a whopping revenue every year.
As a successful businessman, Umansky holds a prominent place in the American real estate industry. He has earned quite a few accolades too.
Kyle Richards Husband Affair and Divorce Rumours
Kyle Richards and Mauricio Umansky had been living a peaceful and happy marriage for over half a semi-centennial. However, when a blind item took the internet to storm in 2020, the couple had to face divorce rumors. The blind item accused a real housewife of having separated from her husband. It said that the beauty had parted ways with her partner after spending time in 'hot girl summer.' It further read that she is currently focused on her kids.
The netizens speculated the woman mentioned in the Blind Item to be Kyle Richards. Since then, the rumors about problems in her marriage had been airing around. Later, it was revealed, that the couple still shares an intact marriage. Kyles Richards and her husband Umansky have been together happily.